This post may contain affiliate links, which means I'll receive a commission if you purchase through my link, at no extra cost to you. Click here to read more.
Don't you just love shopping online? This post teaches you 11 online shopping tips to help you save time and money.
According to Statista.com, online shopping is one of the most popular online activities around the world.
Statista also states that online shopping revenue amounted to 3.53 trillion US dollars in 2019 and is expected to be 4.2 billion this year (2020).
By 2023, revenue is forecasted to be 6.54 trillion US dollars.
Can you believe that??
6.54 trillion dollars.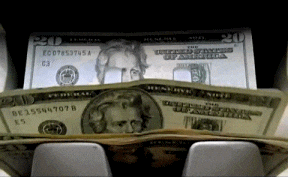 But with all of that spending going on, who do you think is benefiting the most?
Hint: it's not you.
Sure, you're getting something new — and everyone loves new stuff.
Yes, there's the thrill of opening up a package… the bubble wrap and tissue paper, the smell of new stuff.
Yeah, you're meeting a need or treating yourself for once.
Trust me, I love all these things too!
Advantages of online shopping
Here are even more reasons online shopping is so awesome:
It easy: you only have to click a few buttons!
There are lots of options: like, thousands of them
You can do it at home: no dressing room woes, no contagious diseases to think about
But shopping online has its downsides, as I'm sure you would agree.
Disadvantages of online shopping
Some common disadvantages of shopping online are:
It's easy… to overspend
I've come to realize that as the money leaves my pocket in exchange for that thing I've always wanted (and often the thing I bought on impulse) someone else is smiling and getting richer.
It may be a sad way to think about it, but it's true.
That's just the way the world works — we give money in exchange for the things we want and need.
The problem is when we overspend on the things that aren't worth it.
You may be thinking: who would spend on something that isn't worth it???
Um, me.
You.
We've all regretted a purchase at some point.
The thing is: online shopping is so simple (and set up in a way that encourages you to spend) so it's easy to give in to the temptation and buy things you wouldn't even look twice at in a brick and mortar store.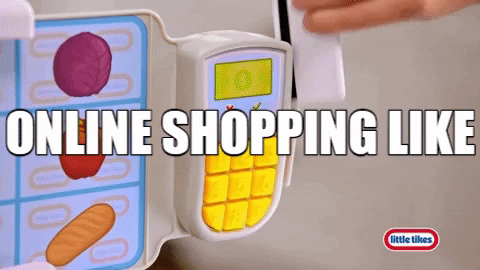 There are lots of options… which can make it harder to choose
If you're anything like me, you tend to be indecisive.
Two options are hard enough… far-less hundreds or thousands!
Scrolling through products can be fun, but that doesn't mean time isn't going by.
With all these items available at your fingertips, it's easy to spend hours looking for the right item if you're not focused.
You can do it at home… so you don't always have an accurate idea of how products look
Things aren't always as they seem.
I've learned that the hard way.
Maybe you've also experienced the disappointment of getting a package that turned out to be far from what you expected.
Like, straight out trash.
Obviously, if you knew it would turn out to be a disappointment, you wouldn't have spent your money on it.
But of course you didn't know!
That's because businesses always ensure that the product looks good online.
Their motive is to get you to spend.
But sometimes, it's not that the company is being purposely deceiving.
You may end up getting the wrong size because you couldn't find or understand the size chart.
Or the wrong color, because your computer or phone settings changed the way product colors appeared.
These are problems you never have to think about when shopping in person.
So, is online shopping good or bad?
Here's the conclusion:
Online shopping has its benefits, but if we're not careful, it may lead us to waste two precious resources… time and money.
But don't worry! Using the 7 tips below can help you save both time and money when shopping online.
How to save money when shopping online
Create a budget
Budgeting is a great way to avoid overspending.
It is a plan for how to use your money.
In your monthly or annual budget, include a fixed amount for online shopping and never spend more than what you budgeted!!!
Never ever, unless it's an absolute emergency.
A sale on your favorite online store is not an emergency, by the way.
You may decide to increase your budget around Christmas or your birthday, but be careful to avoid splurging.
The goal should be to develop the habit of staying within a budget, so don't be afraid to delay some purchases if necessary.
Most online stores have a handy 'save for later' button that you can use right up to the time you check out.
There's also a wish list feature where you can save all the items you eventually want to get.
Use it!
Make a list, check it twice
You wouldn't leave your house to go all the way to a store without having a clue as to what you want, would you?
In the same way, don't jump online simply looking for something, anything to spend money on.
Here's how to create and use a list for online shopping:
Make a list of things you want and need.
Edit and revise your list at least twice. The more times, the better.
Remove any items you don't really need to buy. That includes all the items you're unsure of and those that have no real benefit to you except the satisfaction of owning it.
Adjust your list to stay within your budget. This ensures that you spend your budgeted amount only on the things that you really want or need.
Finally, use your list like a grocery list, and only search for the items on it. Nothing more.
Using a list will help you avoid 'accidentally' purchasing something you never set out to buy.
Set a time for online shopping
I don't mean a time like 8 pm, every day.
Or even once a week.
No.
The time you choose should be specific and not too often.
For example, choose a time like once every two weeks, once a month, or annually at special times of the year like your birthday or major online sales.
Why you should set a specific time for shopping online
Here are two really good reasons to set a time for online shopping:
If you don't have a set time for shopping, you're essentially giving yourself permission to shop at any time, therefore giving yourself more opportunities to spend.
Setting a specific time for shopping gives you more time to rethink what's on your shopping list. For example, you may feel like you really want a new pair of sneakers after seeing them in an Instagram post, but after a few weeks have gone by, you may find that you don't really like or need them after all.
Use tools for finding coupons and earning cashback when shopping online
There are some amazing humans on this Earth who created tools to help you and me spend less AND earn from our purchases.
It's true, not all heroes wear capes.
My favorite money saving app:
Honey
I use the Honey chrome extension and I love it!
With a click of a button, Honey automatically finds and applies coupons to your cart, tracks prices, and shows you the best prices on Amazon.
You can also earn rewards called Honey Gold, which you can redeem later for gift cards.
It's honestly an amazing service.
Already have honey? Check out these other similar services:
Take advantage of sales

Everyone loves a sale.
They're exciting and a wonderful opportunity to get the things you want and need at a reduced price.
What more could you ask for?
If you don't need anything, consider using the time to do early Christmas shopping or buy anniversary or birthday gifts in advance.
As long as the item won't expire or stop working, it's a good time to save on future purchases by taking advantage of low prices.
Below is a list of some of the biggest annual sales you can look forward to:
Fourth of July
Labour Day
Amazon Prime Day
Aliexpress 11.11
Black Friday
Cyber Monday
A word of caution about sales
Before diving into the sea of discounted items and free shipping, remind yourself that businesses are still out to make a profit.
Although the prices are reduced, the things you buy on sale still took time, labor, and resources to make. Businesses aren't going to make a loss just so that you can get everything you always wanted!
There's nothing wrong with that — business is business after all– but it's a reminder to not be tricked into overspending or fooled by 'ridiculously low' prices and 'up to 75% offs'.
Like I said before, as money leaves your 'pocket' for something you don't really need, someone else is sitting at home getting richer.
So only buy what is absolutely worth it!
How to save time when shopping online
Give yourself a time limit
Don't allow yourself to spend hours and hours browsing online catalogs.
Give yourself a reasonable time, maybe 30 minutes to an hour, to look for the items you want.
Try your best to stick to that time limit.
Don't hesitate to use a timer if you need to.
Add the items you want to your cart early
This tip is most helpful when a online sale is approaching.
Instead of waiting for the day of the sale to find the things you want, do it in advance.
So, at least a few days before the sale starts, add the things you want to your cart. That way, when the sale begins, all you have to do is hit checkout.
This not only saves time, but it ensures that you get the things you really want early — before they sell out.
Stay focused
Try not to get distracted when you're looking for something online.
For example, if you're looking for a new pair of shoes, look only at shoes.
Don't end up scrolling through the 'Tops' category, adding graphic tees to your wishlist.
Use your list to help you stay focused.
AVOIDING RETURNS
Having to return an item you spent money on and waited for days or weeks to arrive is a massive disappointment and a waste of both time and money.
The opportunity to return it for free is a consolation, but even that has its downsides.
The downsides of 'free returns'
1. It's an inconvenience and the process may be tedious.
2. Depending on where you live, returns can be straight-up impossible.
3. Regardless of where you live, not all items can be returned.
This includes:
downloadable software
printables and other digital goods from sites like Etsy
groceries items
some health and personal care products
some jewelry items
So if you bought something that doesn't meet your expectations, you may just have to deal with the fact that you wasted your money.
Because returning an item can be such a headache, I've included some bonus tips and printables to help you save time AND money by avoiding having to return items.
How to avoid returning items you bought online
1. Measure yourself
No one likes the idea of having to measure themselves every time they're shopping for clothes or shoes online.
It's so much easier to do a rough estimate to determine your size.
But while this may work most times, it can lead to problems.
Companies don't all use the same measurements to determine sizes. Asian clothing sizes are much smaller than American sizes, for example.
And the shoe size 9 in the US is not the same as a size 9 in the UK.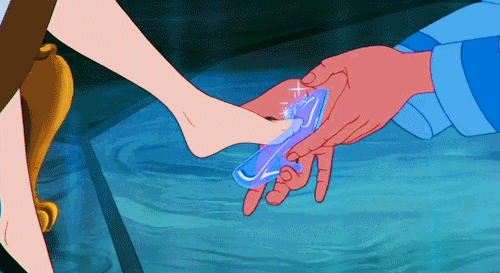 To ensure you get the best fit every time, measure yourself, and keep a record of your measurements close to your desk or on your devices for easy access.
This will save you time when adding items to your cart and will also save you the time and money involved in returning items that don't fit.
Here's how to it:
Have someone measure you or measure yourself using a measuring tape.
Some key places to measure are your waist, bust, and hips.
Write your measurements down.
You can use this printable to keep a record of your measurements so you never forget.
This is a simple but extremely helpful strategy. Sign up below to get a free copy of my personal size chart and online shopping list printable!
2. Read reviews and do your research
Even if an item was recommended to you by a friend, influencer, or favorite blogger, you can't go wrong when you read unbiased reviews, watch videos and do your own research about a product or service.
This helps you get realistic expectations about what you're planning to get, so you can decide if it's a worthy purchase or if you need to find an alternative.
Avoid items with no reviews, reviews that seem spammy, or reviews that are totally biased for or against a product.
I once heard that three stars reviews are the most accurate because they let you know both the pros and cons of an item.
So, always do your research and read reviews. This will help you take to make an informed purchase and significantly reduces the chances of you being disappointed or needing to return a product.
3. Check your phone and computer settings
If the color of an item really matters to you, check it out on multiple devices before buying.
Be sure to turn up your brightness and turn off blue light filters or anything that can distort the true colors of the item.
Conclusion
Online shopping is great — it's easy, there are loads of options and you can shop from the safety and comfort of your home.
But these very advantages can also make it easy to waste time and money.
Using the tips and resources in this post, you can save both time and money when shopping online.